Para ver esta página en español, oprima aquí.
S&P Cuts Puerto Rico's Outstanding Debt To A-
Governor Seeks EPA Support For Martin Peña Rehabilitation Project
Miss Russia Wins 2002 Miss Universe Title
Amnesty Int'l Cites Rights Violation
Anthony Sings In English
Santini Hails Pageant's Economic Benefits
---
S&P Cuts Puerto Rico's Outstanding Debt To A-
May 30, 2002
Copyright ©2002, Dow Jones & Company, Inc. All world rights reserved.
NEW YORK (Standard & Poor's) May 30, 2002--Standard & Poor's said it lowered its rating on the commonwealth of Puerto Rico's outstanding debt to single-'A'-minus from single-'A' and removed the rating from CreditWatch (approximately $10.8 billion of debt is affected).
The action reflects five years of deficit operations and the use of deficit financing and back loading of debt to eliminate a large accumulated operating deficit, including the deficit financing used to close the fiscal 2001 revenue gap.
The downgrade also reflects the use of onetime revenues to balance general fund operations, including the projected use of $534 million in fiscal 2002, ongoing expenditure pressure that has not been brought in line with reoccurring revenues; limited revenue and expenditure flexibility; and an unfunded pension liability of $7.4 billion that is roughly equal to the general fund budget.
The outlook is stable based on expectations of balanced operations in fiscal 2003. Our assumption of balanced operations in fiscal 2003 is dependent on implementation of $596 million of revenue enhancements that are awaiting signature by the governor.
The downgrade affects ratings for Puerto Rico; Puerto Rico Industrial Development Co.; Puerto Rico Public Finance Corp.; Puerto Rico Aqueduct and Sewer Authority; Puerto Rico Housing Bank and Finance Agency; Puerto Rico Industrial, Tourism, Education, Medical, and Environmental Control Facility Finance Authority; and Puerto Rico Municipal Finance Agency.
---
Governor Seeks EPA Support For Martin Peña Rehabilitation Project
By Melissa B. Gonzalez Valentin
May 30, 2002
Copyright ©2002, WOW News. All world rights reserved.
On Wednesday Gov. Calderon took Environmental Protection Agency (EPA) Region II Administrator Jane Kenny for a tour of the Martin Peña Canal and the nearby community known as Peninsula de Cantera, so Kenny could see the poor living conditions and support a rehabilitation project for the area.
Calderon's administration is working on a rehabilitation project that has gone on for over 10 years. The plan is intended to improve the quality of life of the thousands of families living in the nearby area. For years residents have been without a sewer system and have endured floods, poor housing conditions, and contamination.
The rehabilitation process includes dredging the Martin Peña Canal, decontaminating the lagoon that borders the Peninsula de Cantera community, rehabilitating the San Juan Bay estuary system, and integrating the canal with the collective transportation system of the metropolitan area.
The governor said the dredging alone would cost $80 million, of which $20 million will come from local funds; the rest would be sought from the U.S. Congress through the U.S. Army Corps of Engineers.
"The EPA's support of this project is vital. The dredging of the canal is what will give this project its final touch and bring vitality to this sector in Santurce," Calderon said.
Calderon will submit a proposal to the EPA seeking money from the Brownfields Revitalization Fund for the environmental rehabilitation of the lands where the residents will be relocated.
Kenny was accompanied on her first-time visit to the area by EPA Director in Puerto Rico Carl Soderberg, Highway & Transportation Authority Director Fernando Facundo, Transportation & Public Works Secretary Jose Izquierdo, and Resident Commissioner Anibal Acevedo Vila.
Acevedo Vila said he has already met with U.S. House Water Resources & Environment Subcommittee Chairman Jimmy Duncan (R-Tenn.), who he hopes will have the opportunity to visit the area. Acevedo Vila also met with U.S. House Transportation & Infrastructure Committee Chairman Rep. Don Young (R-Alaska), who he said has also shown interest in the project to dredge the Martin Peña Canal.
Meanwhile, Kenny said the EPA would do its best to support the project, adding that they would contribute economically to help establish a sewer system in the area.
"There is money definitely coming from the EPA for the sanitary sewer; it's $10 million," said Kenny.
Rehabilitation of the canal also entails relocating the families in the area. To that end, some 20 families are already living in the approximately 300 housing units that have been built. Calderon said more homes will be constructed for a total of 600.
Although the governor could not say how much money the local government has spent so far on the project, Calderon did say it has been estimated at $655 million.
La Fortaleza also announced the opening of the Citizens Participation Office, which will begin the cleanup of the canal with the collaboration of state and federal agencies. The process is expected to be completed in six months.
---
Miss Russia Wins 2002 Miss Universe Title
May 30, 2002
Copyright ©2002, ASSOCIATED PRESS. All world rights reserved.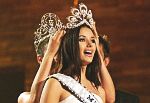 SAN JUAN (AP) - Oxana Fedorova of Russia won the 2002 Miss Universe crown Wednesday night, wearing a white evening gown and telling a roaring audience that she blushes when she says the wrong thing.
After the evening gown and swimsuit competition, the final five contestants were asked "What makes you blush?"
"When I say the wrong things," the 24-year-old from St. Petersburg said grinning to a raucous crowd waving American flags.
Fedorova takes home prizes worth about $250,000 in addition to promotional contracts and a two-year scholarship to The School for Film and Television in New York. She also gets to spend a year in New York on a salary and is provided with a luxury riverside apartment.
Miss Panama, 22-year-old Justine Pasek took first runner-up in the competition; Miss China, 19-year-old Ling Zhuo won second place; Miss South Africa, 22-year-old Vanessa Carreira took third; and Miss Venezuela, 19-year-old Cynthia Lander Zamora took fourth place.
Fedorova, who also won the swimsuit competition in white bikini, gasped when her name was called and last year's queen, Puerto Rican Denise Quinones, placed a $250,000 crown of diamonds and pearls on her head.
The Russian beauty queen wants to be an attorney and become a mother. She's fluent in English and Russian.
Miss Albania, Anisa Kospiri; Miss India, Neha Dhupia; Miss Germany, Natascha Borger; Miss Cyprus, Demetra Eleftheriou and Miss Canada, Neelam made it into the top 10 but were eliminated in the final round.
Miss U.S. Virgin Islands, Merlisa Rhonda George, won the Miss Congeniality award, taking home a $1,000 cash prize and a trophy.
Absent from the top 10 were Miss USA, 23-year-old Shauntay Hinton and Miss Puerto Rico, 21-year-old Isis Marie Casalduc, who won the Miss Photogenic award, taking home $1,000 and a crystal trophy.
Contestants were judged in three categories - swimsuit, evening gown and the interview.
With acrobats dangling from a rope and fountains gushing streams of water on stage, Latin crooner Marc Anthony - dressed in a white suit and black sunglasses - performed two numbers in English. The New Yorker born to Puerto Rican parents had wanted to perform a salsa number in Spanish but CBS wanted him to do two of his best-known hits, which are in English.
Former National Football League player Phil Simms and actress-model Daisy Fuentes hosted the contest at San Juan's Roberto Clemente Coliseum. Contestants from 75 countries and territories were competing.
The show was broadcast live by CBS Television Network to more than 176 countries and territories.
The costume prize went to Miss Colombia, 20-year-old Vanessa Mendoza, in a gold dress adorned with blue, yellow and red feathers.
Among the judges are Guess model Tyrese, women's fashion designer Nicole Miller, "Baywatch" actress and "Sheena" star Gena Lee Nolin, Chinese entrepreneur Yue-Sai Kan and the winner of "Survivor Africa," Ethan Zohn.
Organizers said they hoped the glitzy contest would take people's minds off the Sept. 11 terrorist attacks and the world's political woes.
"I think we all need a diversion," said organizer Mary Hilliard. "At the end of the day, it's a beauty pageant and it's a television show."
This year's pageant has been devoid of controversy, unlike last year when an Internet rumor accused Miss France of being a man.
---
Amnesty International Confirms Human Rights Violation
May 29, 2002
Copyright ©2002, ASSOCIATED PRESS. All world rights reserved.
SAN JUAN (AP) — In its annual report on human rights violations, the worldwide organization Amnesty International revealed that the U.S. Navy actions against protesters in Vieques constituted a violation to human rights.
The report was made public on Tuesday at the group's London headquarters. It also expressed its concerns about the ill-treatment that state police have given to the homeless in Bayamon.
Amnesty International said there are signs that Navy members used excessive force against demonstrators who trespassed on the firing range to protest the military practices that have been performed there.
The organization noted the demonstrators complained the Navy fired tear gas and rubber bullets fired at them.
They also said they were handcuffed, forced to kneel for hours under the sun without water, and they were also humiliated by some Navy officials, who rubbed their breasts and testicles.
The organization urged the Navy to act with moderation when dealing with civil disobedience demonstrators.
However, Navy spokesman Corey Barker reiterated that the protesters were treated as they usually treat those who break the law.
Margarita Sanchez de Leon, Amnesty International coordinator in Puerto Rico said this is the first time the organization has dedicated a section exclusively to comment about a situation on the island.
---
Anthony Pushes CBS For Bilingual Set
May 29, 2002
Copyright ©2002, ASSOCIATED PRESS. All world rights reserved.
SAN JUAN, Puerto Rico (AP) -- Marc Anthony will sing two songs in English at the Miss Universe pageant, despite a last-ditch pitch to perform a salsa act in this Spanish-speaking island he considers his homeland.
The singer, who was born in New York to Puerto Rican parents, told reporters Tuesday that CBS wanted him to sing in English during Wednesday's event, which will be broadcast live.
``Why not sing a song with a salsa beat and (one) in English? I think that shows me as I am,'' Anthony said.
CBS, however, said the issue was the popularity of the songs, not the language.
``We wanted him to sing two hit songs -- `You Sang to Me' and `I've Got You,''' said CBS spokeswoman Nancy Carr.
Ricky Martin sang in English and Spanish during last year's pageant, also held in Puerto Rico, but his songs were pop and required fewer performers.
Anthony's salsa act would have required another 10 musicians and more instruments along with last-minute hotel reservations.
``Logistically it was a little too late to make that change,'' said Anthony's publicist, Jennifer Nieman. ``I think in his mind he's thinking it's still possible but we've been told it's not.''
---
Santini Points Out Economic Impact Of Miss Universe
May 28, 2002
Copyright ©2002, ASSOCIATED PRESS. All world rights reserved.
SAN JUAN (AP) — On Tuesday, San Juan Mayor Jorge Santini pointed out the economic benefits of holding the Miss Universe pageant in Puerto Rico for the second consecutive year.
Santini said 2,200 people visited the island to attend the pageant, including the delegates, their assistants, production crew, and tourists.
The mayor said hotel occupancy in the San Juan area and Isla Verde reached 75%, which he described as "excellent" for May's low season.
Santini said the percentage represents an income of $5.8 million, if the hotel expenses and the local retail selling is taken into account.
It was announced that 3,461 temporary jobs were created for the set's design and construction, food services, chauffeurs, private security and others.
On the other hand, Santini said the municipality will have a 9-minute air time on the final event to present San Juan to the more than 100 countries that will tune into the pageant on Wednesday night.
Although the municipal government won't have to pay for it, the mayor estimated the publicity cost at $7 million.