Este informe no está disponible en español.
The Associated Press
For Puerto Rico, Ripple Effect From A Navy Pullout
by IAN JAMES
June 25, 2001
Copyright © 2001 The Associated Press. All Rights Reserved.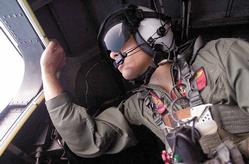 ---------------------------------------------
U.S. Navy E-4 Brandon Trimble looks at the Vieques bombing range from a helicopter last week. [ASSOCIATED PRESS FILE PHOTO]
---------------------------------------------
VIEQUES, Puerto Rico - Dancing to salsa and singing "Navy get out," protesters on Vieques Island have played on Puerto Rican nationalism and resentment against a colonial relationship that allowed bombs to fall on the island for six decades.
But now that U.S. President George W. Bush has ordered the Navy to stop exercises on its firing range in two years, many fear the loss of military jobs could hurt their economy and weaken a U.S. commitment that has made their island one of the wealthiest places in Latin America.
"We've been creating so much bad will in the federal government and Congress with the Vieques issue," said Sen. Kenneth McClintock, who favors statehood. "It would tend to make it more of an uphill battle to get additional federal funding."
Hilda Christian, a hotel receptionist on Vieques who opposes the Navy pullout, expressed similar worries: "Little by little there are going to be many changes, and it's going to affect the economy of Puerto Rico and aid from the United States."
While many Puerto Ricans have clamored for a bomb-free Vieques, most also value their ties to the mainland United States, where about 2 million of the 6 million Puerto Ricans live. In the latest island vote, a nonbinding referendum in 1998, people narrowly voted to keep the current "commonwealth" status, edging out statehood, with only a tiny percentage favoring independence.
An end to the bombing threatens the existence of the biggest naval installation in the world in land size, the Roosevelt Roads Naval Station which administers Vieques and employs more than 5,000 military and civilian employees.
Protests have led the United States to abandon some important bases used since the 1940s in the last decade: the Kahoolawe target range in Hawaii in 1990, massive Subic Bay in the Philippines 1992 and bases in Panama in 1999.
It currently faces protests to cut down on the more than 20,000 troops that train on the Japanese island of Okinawa.
Roosevelt Roads covers 22,600 acres (9,145 hectares) in eastern Puerto Rico, just six miles (10 kilometers) across the sea from Vieques, and injects dlrs 300 million into the economy each year. At the same time, relatively well-off employees buy homes in new subdivisions served by large supermarkets and rows of fast food and other U.S. franchises.
The Navy says it employs about 200 Vieques residents - precious jobs for an island with 12.3 percent unemployment, compared to 10.1 percent on the main island.
Some on Vieques see a future in tourism. The island's 9,100 people occupy a third of the oblong island, sandwiched between lands owned for years by the military - large tracts of uninterrupted dry forests and unspoiled beaches that could revert to civilian use.
The island's smattering of small inns and hotels have 150 rooms, and a new resort that would double that capacity is in the works.
Tour guides already lead groups by kayak to a bay where bioluminescent microorganisms send a green glow shimmering through the water at the sweep of a hand.
As news coverage has focused on the bombing, though, Vieques has lost 30 percent of visitors in two years, said James Weis, who owns a nine-room Mediterranean-style inn perched on a bluff overlooking the Caribbean.
"Everybody seems to be looking at the idea that Vieques will open up," Weis said. "This is such a naturally perfect vacation destination."
Some question whether it's possible to fully remove unexploded bombs and other hazards from Vieques, but islander Dr. Dulce Maria Albandoz said she expects "a beautiful future."
Rep. Jim Hansen, a Republican from Utah and senior member of the House Armed Services Committee, said a Navy pullout sets a dangerous precedent.
"The folks in Japan don't want us in Okinawa, and yet we're testing and training there," he said on National Public Radio. "I don't see where Puerto Rico should get any favorite treatment . . . They sit down there on welfare and very few of them paying taxes - got a sweetheart deal."
Hansen's gripes that islanders pay no federal taxes but receive dlrs 12 billion a year in federal funds angered Puerto Rican leaders.
The United States seized Puerto Rico from Spain in 1898. Islanders are U.S. citizens who cannot vote for president but have fought in major conflicts from World War II to Vietnam.
The territory has suffered economic setbacks since the United States began phasing out tax breaks in 1996 for companies that set up here. And the manufacturing sector has lost 25,000 jobs since 1992, said economist Elias Gutierrez.
But he said the Navy's departure shouldn't damage the economy, and dismissed claims that U.S. politicians may cut aid, saying much is in earned benefits that could not be cut on a political whim.
Protest leader Robert Rabin said if Vieques forces a change, he hopes for "a much more healthy relationship, where the U.S. military would respect the will of the people."
Others said Bush distanced the United States from Puerto Ricans this month by describing them as "friends and neighbors" - not fellow citizens.
"The Vieques issue is drawing attention to the need to address the underlying problem between Puerto Rico and the rest of the nation," said McClintock, "the political status problem."